I'm not a complicated person by any stretch of the imagination, especially when it comes to clothing. It's pretty much Adidas Originals, Diesel, WeSC, LRG, Graniph, Kenzo and that's it. I'll spend hours and hours looking for records and at art but when it comes to clothing I make snap decisions and more often than not they turn out alright. I like bright colours and simple clear graphics - a bit like my art, and the art that I like, in all truth. There is an argument that I dress a bit too young for my age but to tell you the truth I'm old enough to know better and young enough not to care. Here are some of my favourite bits 'n pieces.
Adidas Originals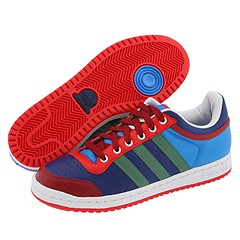 Adidas
WeSC (WeAreTheSuperlativeConspiracy)
WeSC is a street fashion brand for intellectual slackers. WeAretheSuperlativeConspiracy symbolizes what WeSC as a company represents; a group, a family of good and competent people working towards the same ideal and goals. WeSC is addressing people with awareness, regardless of race, religion or financial background.
- Taken from their website.
I like them mainly because they do great collaborations with Nokia and Adidas. Their banana tees and sweatshirts are my most liked pieces.
WeSC
Graniph
A brand that I stumbled upon in the Harajuku district of Tokyo with my wife a few years back. I could've bought the store but I was restrained by the wife who probably wasn't prepared to stick one of her kidneys on the black market to pay for all of my swag and quite rightfully so. They're
the
t-shirt brand on the planet. (There is another brand that is equally as good that I saw in Singapore but I haven't seen it since anywhere, so it's probably best left at that.)
Graniph